Student Success: Medical Anthropology at the University of Richmond
Anthropology at UR provides a student with the opportunity to focus on the social dynamics that influence health and well-being, including access to medical care, cross-cultural understandings of illness and healing, and analysis of pluralistic health care practices from a global perspective.  With this training, anthropology students have gone on to work as healthcare analysts, educators, and researchers at medical centers. UR anthropology students have gained admittance to prestigious medical schools and graduate programs in medical anthropology.  Please read below to learn more about student success and medical anthropology at UR.
Simrun Bal, '13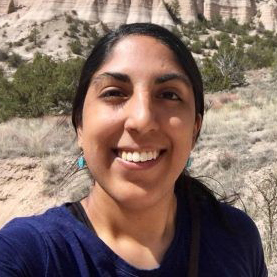 Majored in Biology and minored in Anthropology, knowing she eventually wanted to enter medical school. After graduation, Simrun attended The Johns Hopkins Summer School in Public Health (sponsored by the CDC) and subsequently spent a year volunteering in a rural California health center where she counseled, educated, and coached patients on how to manage their diabetes. She also worked on a project designed to promote empathy and foster a person-centered approach to healthcare among the clinic's providers, all approaches highlighted in medical anthropology classes. In 2015, she was admitted to Dartmouth Medical School. One opportunity offered by Dartmouth that appealed to Simrun's anthropological tastes was a rotation on a Native American Reservation in New Mexico. She graduated from Dartmouth Medical School with a specialty in internal medicine in 2019 and a "Pathway to Global Health Equity Program." She says she chose internal medicine because it "embodies humanism in medicine—seeing other dimensions of a patient's life, beyond symptoms, to understand who they are." Currently, Simrun has begun a residency through Dartmouth-Hitchcock's primary care-internal medicine residency program. "I really like the rural Upper Valley community," she enthusiastically says. "Internal medicine integrates my fascination with clinical problem-solving with a passion, inspired by anthropology, for understanding each patient's unique story."
Photo: Simrun Bal in New Mexico in Indian Health Service rotation
Aleah Goldin, ' 13
Aleah Goldin is a senior research analyst at Inspire, an online peer health network where she interviews patients and caregivers about their disease journeys. She regularly uses the research skills she learned within the anthropology department to help federal and pharmaceutical clients better understand patient experiences and perspectives. Prior to this position, she worked at American University as a research associate on a National Institutes of Health grant focused on the intersection of the criminal justice system, sexually transmitted infections, and housing stability. Aleah graduated from the University of Richmond in 2013 with an interdisciplinary major in Global Health and a minor in Anthropology. She was a recipient of the Southern Anthropological Student Paper Competition in 2013.
Lashonda Jean-Jacques, '13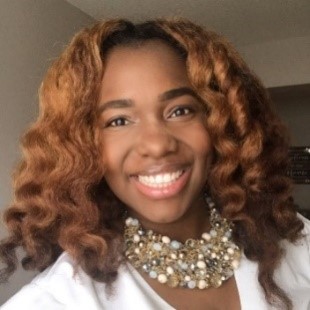 Lashonda (Hanna) Jean-Jacques majored in Healthcare Studies and minored in Anthropology. She took courses on Global Health and Medical Anthropology, and with Danielle Smart shared an independent study course on Midwifery and Women's Reproductive Health. After graduation, Lashonda worked at Rubicon drug rehab, and transitioned to Children International as a Care Team Advisor. Subsequently, she earned a Master's Degree in Public Health at Trident University. Currently she works as an advisor to nursing students at a local college. Lashonda has found that her courses in anthropology influenced not only her career choices but her personal ones as well. She went on to have the same midwife deliver all three of her children at a birth center. Lashonda also uses her various platforms to advocate for chiropractic care during pregnancy, midwife attended births and dynamic postpartum recovery.
Danielle Smart-Matsumoto, '14
Danielle Smart-Matsumoto created her own interdisciplinary major in Medical Anthropology. Intent on bridging the gap between medical science and culture she focused on women's reproductive health and choice. There she engaged in discussions of disparities in social class, education, and race that influence women's access to safe equitable health care from routine visits to childbirth. She participated along with Lashonda (Hanna) Jean-Jacques in an independent study on Midwifery and Women's Reproductive Health. After graduation she held health care administrative and assistant positions in New York City, first at Professional Orthopedic and Sports Therapy and then at Lincoln Medical and Mental Health Center. Presently, she is an International School Instructor in Yokohama, Japan where she hopes to continue her ethnographical work. Her medical anthropology major continues to inspire her career path and continuing studies in the medical sciences, as well as, her personal choices and recent experiences in childbearing and motherhood while living overseas.
Hannah Garside, '15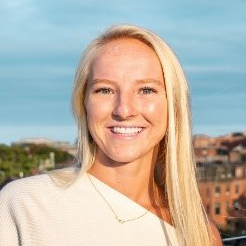 Hannah Garside transferred from UR after her freshman year in 2015. She did however, take FYS-100 Global Health and Medicine taught by Dr. Nourse and of that course she writes,
 "You inspired me to look at the idea of healing people more holistically, with understanding and empathy. Beginning in August of 2020, I started working at Partners in Health, the organization started by Paul Farmer that we discussed in class. I owe a lot of my passion and interest in this organization, and the entire field of healthcare, to you and your class. It was the first time I was able to explore the arena of medicine from a humanistic and personal lens, rather than a strictly scientific one. I ended up completing a minor in Medical Humanities from Boston College, which is similar to what we discussed in that class. Thank you for all that you have done for me, I was impacted by you and your work in both major and minor ways and it shaped my daily work and long-term goals. I will continue to pursue this field, shaping it with hope and optimism for the future. "   
Harleen Bal, '18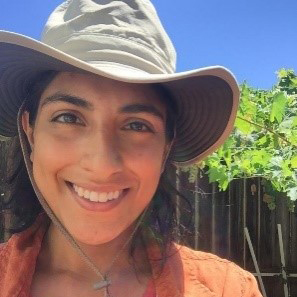 Harleen Bal majored in Environmental Studies and Health Care Studies and minored in Anthropology. After graduation, Harleen completed a year of service through AmeriCorps in California, serving as a Health Educator for the International Rescue Committee (IRC).  There she conducted health coaching and wellness classes for refugees from Afghanistan and Iraq, educating clients on the U.S. health system, healthcare rights, and advocating for personal health services.  She was then accepted and hired into IRC's New Roots Department as an Education and Outreach Specialist, with the focus on involving refugee communities in local agriculture and gardening for commercial and personal consumption.  She provided nutrition education classes and collaborated with farmers, food banks, and schools within the Sacramento area.  Harleen says, "This work was particularly rewarding as it brought together health, the land, and communities of low food access, allowing me to study deeply the individual, cultural influences, and broader structures that contribute to the wellbeing on both health and environmental levels.  She decided to pursue graduate school in medical anthropology.  Currently, she is enrolled in the Sociocultural Anthropology Ph.D. Program at the University of California, Davis, with a focus on medical and ecological anthropology. Eventually, she hopes to write a dissertation on mindfulness practices, ecology, and cultural notions of wellbeing.
Latoni Hopson, '18
Latoni Hopson majored in Biology.  While at UR Latoni took FYS 100-Global Health and Medicine with Dr. Nourse.  Currently, she is at VCU getting a Bachelor of Science degree in Medical Laboratory Sciences and will transition into their Accelerated Master Program. Latoni wants to become a Genetic/Medical Anthropologist. 
"Understanding connections and my health have been central themes I wanted to explore since high school. How does where I live influence who I am? Why does where I live determine what resources I have access to? What do these things mean in terms of my health? My ideals? My identity? When I took Dr. Nourse's FYS 100 Global Health and Medicine course, I wanted to know how my questions were answered for different groups of people and to see what connections we shared. Globally, I have similarities with people who grew up in low socioeconomic conditions and as a minority group, but because I was born in the U.S., I am different when it comes to my access to healthcare and other resources. I wanted to know why this is and what led to how things are. From this class onwards, I took courses that I thought would help me hone in on my areas of interest. My goal is to look at how genetics influences health problems, and based on the social, economic, and cultural constructs of where people are, how are people viewed, what access to treatment do they have, and if they are even able to seek treatment. In addition to that, how does health and these constructs shape their identity and place in the world?"
Madison Nguyen, '18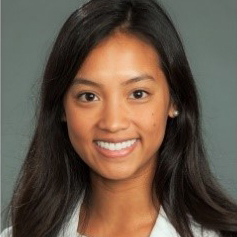 Madison Nguyen majored in Biochemistry and Molecular Biology and a minored in Healthcare Studies. She took three courses taught by anthropologists: FYS 100 Global Health and Medicine, ANTH 302 Medicine & Health from a Global/Anthropological Perspective both with Dr. Nourse and ANTH 303 Biopolitics in Medical Anthropology with Dr. Sweis. Madison also served as a writing fellow in ANTH 302 during her senior year. Of her studies, she writes: 
"I certainly still apply the knowledge that I learned from these anthropology courses to my training as a medical student at the hospital and in clinics. I have witnessed firsthand how infrastructures such as health insurance and income, education, and geographical residence impact the health care, treatment, and follow-up of patients that I help take care of on a daily basis. I make genuine efforts to connect with patients beyond their medical conditions and complaints. Courses in anthropology made me aware that the skill of medically treating patients is vastly complex and often requires knowledge of patients' social values, economic stability, religion, and their interpretation of medical issues. When I meet patients, I aspire to gain knowledge of such information during discussion about their social history. In doing so, I can better comprehend patients' values, preferences, and practices, and consequently am able to suggest plans that will be efficacious and goals that will be achievable. I am grateful to the Anthropology Department at UR for helping me become well-versed in my medical training."
Natasha Shannon, '18
Natasha Shannon graduated with majors in Anthropology and Arabic. Of her experience she writes, "I took quite a few medical anthropology courses during my time at UR, and I loved all of them. Dr. Sweis' Biopolitics in Medical Anthropology course particularly impacted me, and the subjects from that class continue to influence how I understand cultural views of the body, health, and medicinal and scientific practices. After graduating from UR, I spent two years working for the Federal Reserve (an unexpected switch!), but I knew I ultimately wanted to return to school. I started my first semester of graduate school in fall 2020 in the Environmental Science, Policy, and Management department at University of California, Berkeley, where I am focusing on environmental anthropology, regenerative agriculture, and food justice issues. While these topics might appear tangential to medical anthropology, I actually rely on many of the concepts from medical anthropology in my work. I am especially interested in the nature of the human-environment relationship, which ties directly into cultural understandings of the human body and how it is connected to or disconnected from the surrounding environment(s). Additionally, I see many parallels between the biopolitics present in medicine (the "medical gaze," for example) and the politics present in scientific approaches to the environment (conceptions of objectivity, for example). My experience with medical anthropology at UR was part of what brought me so excitedly to anthropology in the first place, and it continues to weave itself throughout my work and interests in graduate school."
Jacqueline Sinnott, '18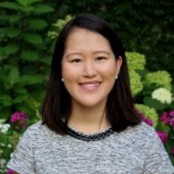 Majored in Biology and minored in Anthropology and Healthcare Studies. Following graduation, she joined AmeriCorps and taught reading intervention to first through third graders. She then completed a second year of AmeriCorps service doing community outreach and family support services for the City of Philadelphia's Early Intervention Program. Jacqueline presently is enrolled in the MD program at Thomas Jefferson University in Philadelphia. "Studying anthropology gave me a new lens through which to view the world and strongly influenced my pursuit of both service and medicine. It deepened my understanding of how culture and experiences shape us, as well as the importance of holistic models of care in addressing health disparities and advancing health equity." She plans to continue working with underserved communities, and currently is doing research at Jefferson related to prenatal care for mothers being treated for substance use disorder. "I am so grateful to the anthropology department at UR for offering me the opportunity to study these topic areas and will take this knowledge with me in caring for patients from all different walks of life."
Bailey Cristian, '19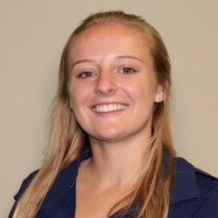 Bailey Cristian majored in Healthcare Studies, minored in Biology and Spanish, and took several medical anthropology courses.  Bailey participated in a research practicum project with Dr. Nourse interviewing women who had given birth in the Richmond area.  Presently, Bailey is a Nursing Student at Bon Secours Memorial College of Nursing in Richmond.   She also works as a Patient Care Technician part-time at Bon Secours Mercy Health.  Bailey finds that her medical anthropology courses prepared her well for medical training, and writes, "by studying different cultures and ethnicities, I developed a better sense of how to approach patients with unique backgrounds."
Bailey Parsons, '19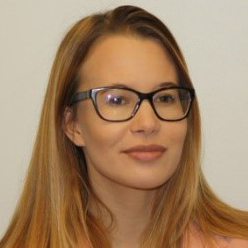 During her time at UR, Bailey Parsons decided to create an interdisciplinary major in Medical Anthropology, combining her passion for anthropology and her future career interest in medicine. Bailey also participated in a research practicum project with Dr. Nourse in which she interviewed local mothers to gain an understanding of the resources available to pregnant women and new mothers in the greater Richmond area.  After graduation, Bailey worked as a medical assistant at a Dermatology office in Washington, D.C. while applying to medical school. She now attends the University Of Central Florida College Of Medicine and is the recipient of an Edyth Bush Charitable Foundation Scholarship. Bailey has found her background in anthropology to be invaluable. Her education introduced her to different cultures, showed her how to critically review literature, and demonstrated the importance of maintaining a culturally relative perspective. If she could give one piece of advice to current UR students interested in anthropology, it would be to go for it.  "Regardless of the field you want to go into, an education in anthropology will give you a unique perspective on the world around you. For those interested in medicine, the experience you gain as an anthropology major or minor will prepare you well for a future of working with patients from a diverse set of backgrounds."
Erin Sorady, '19
Erin Sorady majored in Anthropology and Leadership Studies and minored in Healthcare Studies. She also participated in a research practicum project with Dr. Nourse, interviewing women who had given birth in the Richmond area. Currently, Erin is working at Partners in Health in Boston, MA.  She learned of its founder, Paul Farmer's work in her medical anthropology class with Dr. Sweis. Through her anthropology studies and her work at PIH, she has learned the importance of accompaniment,  giving patients primary agency in shaping intervention, working with local governments, and understanding that medicine and public health alone do not work without empathy, compassion, and a deep commitment to show up for patients in their scariest and loneliest moments. Erin continues to attend free medical anthropology lectures offered through work at Harvard.
Gabby Bowen, '20
Gabby Bowen majored in Biology and minored in Anthropology. Gabby took courses in medical anthropology and participated in a research project interviewing women about their pregnancy experiences in the Richmond area.  After graduation, Gabby received the Pauley fellowship at VCU Health Center and worked with an epidemiologist on a project that investigated the role food insecurity has on cardiac health for adolescents.  Currently, during her gap years before medical school, Gabby is working with the National Health Corp in Pittsburgh as a patient navigator. She does patient outreach and works on health education. Her background in medical anthropology and its focus on health disparities and unequal access to healthcare has definitely contributed to ways in which she conducts her work. She is also glad to speak with any UR student interested in studying medical anthropology.
Sara Hyman, '20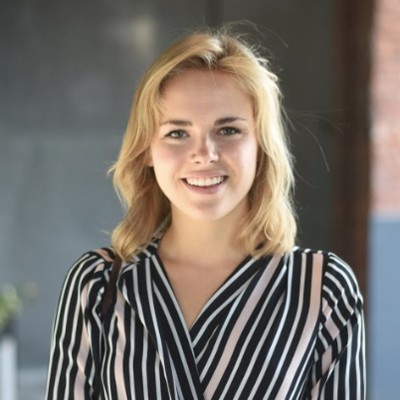 Sara Hyman gruduated with a B.S. in Biology and a B.A. in Global Studies. During her time at Richmond, Sara took Biopolitics in Medical Anthropology with Dr. Sweis and participated in a research practicum project with Dr. Nourse, interviewing women who had given birth in the Richmond area. She also worked on the project's final report and its coding.  Sara currently is a Research Associate in the Vaccine Center at New York University where they are working on a vaccine for Covid-19.  Her knowledge of medical anthropology provided an important step in her decision to accept the Research Associate position, shaping her work by providing a fundamental background in her understanding of health disparities, differential narratives of care, and barriers to participation in clinical trials. Her study of medical anthropology during her time at UR was integral in her development as a scientist, enabling her to pursue a Ph.D. in epidemiology and to become a social epidemiologist in the future. 
Annalise Mangone, '21

Annalise Mangone graduates with a B.A. in Anthropology and Leadership Studies in 2021.  She will be attending a one-year MSC program in Medical Anthropology at Oxford University.  Annalise chose this program because of her own interest in medical anthropology as well as the opportunity to gain a theoretical foundation in the subject that the Oxford curriculum affords.  Of her studies at UR, Annalise writes, "the UR anthropology program was absolutely instrumental in getting me to this point.  Even though I was interested in anthropology generally going into UR, I had never heard of medical anthropology before and by taking courses like Dr. Sweis's Biopolitics in Medical Anthropology and Dr. Nourse's Medical Anthropology and Medicine and Health in a Global Anthropological Perspective I was able to learn more about the field and my own interests within it. Furthermore, the anthropology department has always been incredibly supportive of my independent research, and through that support I have been able to grow as an anthropologist so that I am ready to take on challenges like Oxford."